missing translation ( english -> german )
Hello , 
As you can see on the image linked, when i try to create a new idea with same name i get an english text . Or my widget is all in german .
Thank you for your help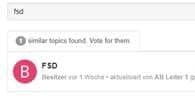 How would you rate the customer service you received?
Satisfaction mark by a elaini 4 years ago
Add a comment about quality of support you received (optional):